Jouranling is very important to me. It is not often you will see a layout of mine that doesn't have some kind of
journaling on it. Today I want to share a layout with you that I created using the Splendor Collection from
GCD Studios
.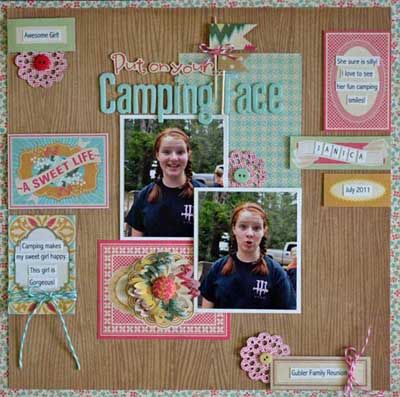 Meet Janica...my crazy, funny and beautiful daughter! She is always making funny faces...come to think of
it, I think it is a family thing cause we all do it. Anyway...I want to do something different with my journaling, so I decided to break it up. I cut out these labels and tags from the Splendor Collection and placed them throughout the layout.


I love the fact that this gives the eye a chance to move around the whole layout. I am glad I could share with you a fun way to journal using GCD's Splendor Collection. Thanks for stopping by today!
Supplies: Splendor Collection. Letter Tiles (#1680), Tiny Blossoms (#1685), Labels and Tags (#1679), Pink Flora (#1682), Zig Zag (#1687), Candytuft (#1676)